Web design & development: in-house or outsource?
In house web design teams are great. I was in one myself for quite some time. No, in fact, I was one: it was just me. And I'll tell you something else: I used to raise my hackles and bare my fangs when web design agencies came round, looking for the business. But is an in-house team the way to go, or is outsourcing better?
It's pretty much safe to say, in this day and age, that every business needs a website. And so the question arises: do we deal with this website in-house, or do we hire a web design agency to do it? And it is a bit of a thorny issue.
In House Web Design
Like I said, in-house teams are great. Your in-house team has access to every aspect of your business, and they understand your business in a way that (perhaps) an outside agency can't hope to. They also act as an ambassador for the web side of the business within the business, preventing the online presence from being sidelined, and they can smoothly evolve the site along with the evolution of the business. Having an in-house team represents an investment in the business; and not to forget the crucial fact that maintaining an internal team will usually prove to be cheaper than contracting out the work to an external agency, at least once the team is established.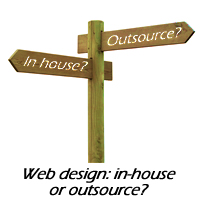 BUT there are some drawbacks to this approach. And I say this from experience. Sadly, although your in-house team should be able advocate the requirements of the online side of the business, they are all too often overlooked. Try as they might to make suggestions and recommendations, or even outline absolute requirements, it is easy for both management and other departments to treat this side of the business as low priority. From my experience, I remember trying to push through some changes to the online business which were required by the DDA (Disability Discrimination Act). Despite it being law, I struggled to get the support I needed to make the changes which were required. And it's not an uncommon situation: it's not unusual for web design companies to find that they're asked for advice or a recommendation on something, only to find that they've just confirmed what the in-house team have been saying for months.
Also, there can be workflow problems where a company's web requirements are handled in-house. A business might find that one month they have very little that needs doing to maintain their online presence, while the following month they have masses of changes and updates, or even some major restructuring. One day the in-house team is playing solitaire on their computers, the next they're tearing their hair out…
Outsourcing
Putting the project out to external web design agencies can have significant advantages, although of course this depends very much on whether you already have an in-house team. If the business doesn't already have a team in place, finding the right expertise for the job can be tricky and time-consuming. Finding the budget for one or more new personell can also be a problem; and that's where an external agency is ideal.
An agency should be able to offer a much wider range of skills than are necessarily available in a small internal team, and they're also under more pressure to keep those skills up to date. Operating in a competitive environment, agencies have to price competitively, keep their expertise honed, and offer great quality service.
The Third Way
Of course, the two options are not mutually exclusive. Having a team – or an individual – already in place doesn't mean that you shouldn't consider an external agency in support of that team. Okay, so I've already admitted that I used to get a little… shall we say 'defensive' when agencies tried to pitch in on my patch, but in all honesty I have experienced a number of excellent working relationships between outside agencies and internal teams, from both sides of the fence. Working internally for a company we had design skills in house, but opted to take on an agency to handle the development when we moved from a static to a database driven website. And from the flip side, working for a very design based agency, our team worked very closely with a software and application development house who had in-house development but needed design support. It's not always a design vs development split, either – there are numerous ways that an agency can work in support of an in-house team. See our 6 reasons to use an agency to support your in-house skills… or if you're looking for someone to supplement your in-house team, just give us a shout.