"Epic" new Vantablack site goes live
At Freshleaf we're very excited today by the launch of a brand new site for our long-standing client Surrey NanoSystems. When we started working with SNS they were a fairly typical Freshleaf client – creating technology that enabled great things, but which didn't often make headlines outside of the trade press. But that all changed in 2014 with the invention of Vantablack.
For the uninitiated, Vantablack is the blackest material known to man, absorbing 99.96% of visible light. That means that anything coated in the material looks, essentially, like a black hole. It's so black that the human eye struggles to process it.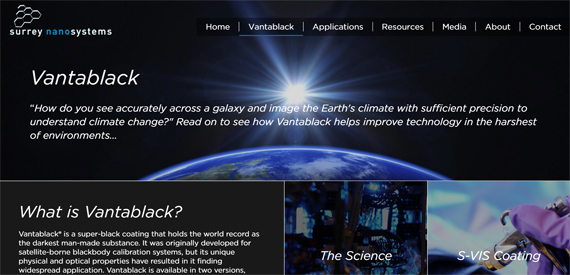 Practical applications are in things like noise reduction in sensitive imaging – so eliminating stray light in space telescopes to improve the quality of the image, for example; but the material is also finding its way into everything from luxury consumer products to architecture and art installations. It's truly captured the public imagination, filled endless column inches, and been featured on a TV science and current event shows.
Stylish and easy to navigate across all platforms... I can honestly say that the results are epic!
Any new website launch is pretty exciting, but this has been a really engaging project for us: a challenge to make a site that can really showcase the spectacularly innovative qualities and applications of Vantablack, along with a content management system that's powerful and flexible enough to allow the site to keep up with the ever evolving Vantablack story.
We're incredibly proud of the finished result, and the folks at Surrey NanoSystems are pretty pleased too. Founder and CTO Ben Jensen said: "We have to inform highly technical customers at an engineering and scientific level, whilst engaging and maintaining public enthusiasm in the ongoing Vantablack story. At the same time the site has to appear stylish and be easy to navigate across all platforms. I can honestly say that the results are epic! Delivered on time, on budget, and they met the brief exactly."
Want to know more? Why not read the case study, or visit the site.