Welcome to the world, Google Chrome
You might have to be living under a rock to have missed the launch of Google's brand new, open source browser Chrome earlier this week; but you might be wondering what all the fuss is about.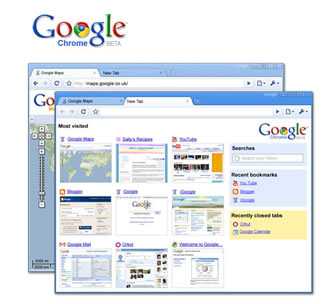 So what's new?
A new open source browser, you say? What's wrong with Firefox? Well, Firefox is an excellent browser. But unlike both Mozilla and Internet Explorer which have both recently released new versions of their browsers (IE8 and FF3), without many obvious improvements on the previous version, Google, as is their way, have gone out of their way to innovate.
They claim that they wanted to create a browser which was truly equal to the current and growing demands on web browsers: for example video, gaming, and javascript heavy web applications. Perhaps the most exciting factor is the multi-process approach to the tabs, where each tab is allocatied its own processing power… which if it really works as they promise should improve the browsing experience hugely. Whereas in existing browsers a jam in one tab jams up the whole browser – with Chrome each tab works independently of the others, so that even if something has gone wrong somewhere, you can carry on with what you were doing instead of staring at an unresponsive browser in growing frustration.
This independence works too, in opening and closing tabs. Tabs which were open but have been closed (often to allow things to run more freely) can cause memory fragmentation, making the OS run out of space to operate the browser, and causing things to jam up again. Closing a tab in Chrome, so they tell us, ends all associated processes, stopping the memory bloat.
Additionally, Chrome has its own task manager showing information on each of the tabs and the processes running, allowing you to identify any exactly what's causing the jam.
And of course, being a Google browser, it's clever with its search. The address bar has been replaced by a so-called 'omnibar' which integrates a search function: no more calling up a browser window for your preferred search engine, or switching to the search bar: just type whatever you want straight into the omnibar, whether you know the url or not.
Whether Chrome will be everything they promise its too early to say, mainly because the current release is a beta; but personally I have high hopes of it. On the basis of Google's existing developments (the search engine, google analytics, google docs etc), we have no reason to assume it'll be anything but exceptionally well thought out and well implemented.
Update: The Daily Netizen, who have obviously spend some time tinkering with Chrome already, have "50 Tips for An Awesome Google Chrome Experience"
Reading list:
Google's Chrome Intro