The things you do for good seach engine listings!
So the saga of the Freshleaf Media website continues. We launched the site on a new domain back in May, and although we were delighted with our new toy, Google was less than impressed, and promptly sandboxed it. That meant that although we could be found by searching for Freshleaf Media, or for specific content we knew to be on the site, we weren't ranked at all for any of our carefully chosen keywords.
So right here, ladies and gentlemen, we have a case study in Search Engine Optimisation. Our chosen keyphrase was corporate website design, and the challenge was to get us out of the sandbox and onto page one!
Getting out of the Sandbox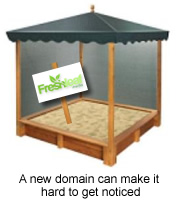 Google doesn't like new domains. Fact. Although Google bods like Matt Cutts maintain that they didn't go about creating a holding area where they keep new domains until they're satisfied that the sites aren't using black hat techniques for a quick jump to the top – the fact remains that new domains don't immediately get ranked for their carefully optimised keywords. There is an initial penalty on new domains. Estimates on how long it takes to be un-sandboxed vary: with anything from a few weeks to nine or ten months being quoted; and there's officially nothing you can do about it.. with the considerable exception of continuing your SEO as you would normally, so that when you get unsandboxed your ranking is good.
Well, the Freshleaf site launched in early May this year, and we were first listed in Google for corporate website design in late July – around eleven weeks later – on page six. During the time we were sandboxed, and ever since, I've been working on our SEO on a weekly basis: more often, if I have time. Everything in the site has been optimised… and then optimised again. Backlinks have been built. Submissions have been made to directories and listings for corporate website design services. More content has been added (for the benefit of the people as well as the bots), and then that content has been optimised. Design tweaks have been made. Corporate website design is our focus, our passion, our raison d'etre.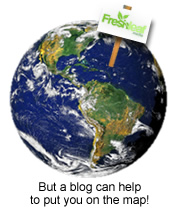 BLOG = Better Listings On Google?
Additionally, we started our Corporate Website Design Blog. Google might hate new domains, but it loves fresh content. And what better way to add fresh content, to engage our audience, and to participate in the conversation, than to blog?
And I'm glad to report that it's becoming an important part of our web presence: a hit with both our clients and the search engines, as well as contributing in some small way to the web community.
And now that I've remembered to add the Google analytics code to the blog pages, we'll even be able to calculate how much of an effect it has!
So where are we now?
Well, things are improving. From the point when we entered the rankings, I'm glad to say that there's been a consistent upwards trend, to the point where we're now listed on page 3, position 26, for corporate website design (we came in at around page 6). It goes to show that good SEO tactics really will have a measurable effect. All we have to do now is climb two pages to that coveted first page position. I'll keep you posted.
A final note…
Finally, you'll notice that this post focusses exclusively on Google. There are several reasons for this – first and foremost of which being that Google is by far the most popular search engine (US usage stats in August 2008 puts Google at 71%, whilst UK usage stats from June 2008 puts it at 87%), so logically good rankings in Google will secure more traffic than in other search engines. Also, what works for Google isn't going to do you any harm in other search engines: its all good SEO. And lastly, all things in time. When I've got where I want to be on Google I will shift my focus to Yahoo, MSN, and Ask (in that order).