Start-ups, mergers and acquisitions – the lifecycle of a corporate website
We recently lost one of our well established clients – Icera – when the company was swallowed up by a larger tech giant, Nvidia. We were sorry to see them go, but that's the way it goes with technology websites – mergers and acquisitions are a part of the life cycle.
Because most of our client relationships are long-standing ones, managing websites from first steps through mergers and acquisitions is something we've become very familiar with at Freshleaf. We've done our fair share of integrating branding, products, content and messaging from one website into another – and it can be a challenging process.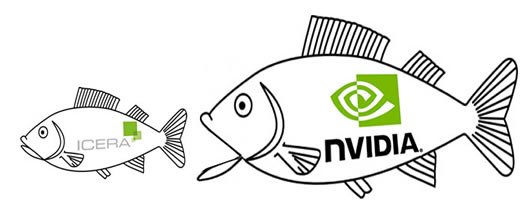 First steps – the start-up
When a new technology start-up first comes out of stealth mode, the website requirements are usually fairly minimal. It starts with an information-only site… a drip-feed of information intended mainly for the technology community. In those early stages, it's a delicate balance between not having too much to say on the website (or not yet being at liberty to say too much), but not wanting to be written off as yet-another-startup-that-won't-last-five-minutes.
Later, as the company finds its feet, changes to the website are required to keep up. The messaging shifts; there's more to say about products and technologies, and the audience broadens to include not just those in the industry, but press, potential customers and potential investors. Management of press releases and job vacancies becomes important, and the building blocks are put in place for the evolution into a much larger corporate site.
Mergers and acquisitions – eat or be eaten
Established corporate websites, of course, are much more stable entities. Changes are normally iterative, with major redesigns or restructuring coming around less often. Each website evolves its own logical hierarchy of information, its own user journeys, key landing pages and so on, which are (or should be) the result of careful consideration, and based on the way that the audience will interact with the site (rather than being based on internal divisions and structures).
So what happens when two tech companies need to integrate their whole offering into one comprehensive website? Well, therein lies the challenge. Nobody wants to end up with an ill-conceived mash up of the two companies' offerings – but that's exactly what can happen if there's not sufficient skills and resources dedicated to managing the web presence through the changes.
How the integration works depends a little on the nature of the merge – but the ways we support the change management process are similar in most cases. Often the first step is either to find a way to integrate the brand values of the two companies without compromising either – or to help create a unified identity drawing from the strengths of both brands. Of course, branding decisions are made within the company, but it often falls to us as a design agency to provide actual solutions to the problem of how to respectfully join the two brands.
Website Merger Roadmap
The next step is to provide a roadmap to integrate content from both websites into the remaining site. This is similar to the process we use to structure a site initially, but is made inherently more complex by the need to map extensive new content – with its own internal structures – onto an existing structure in a way which is still logical, intuitive and usable. This applies across the site, but product ranges are usually a particularly thorny example, and finding a way to align new but established products with an existing offering can be tricky. In creating a new structure we need to consider aspects such as the audience and engagement patterns (for example, adding a consumer product to an existing B2B range), user journey, the presentation of key landing pages, and cross–linking of products.
The aim, of course, is to complete the process with an integrated website which is better than the sum of its parts – its offering is broader but its structure is logical, its messaging clear and coherent and its goals are aligned to the goals of the business. And, with sufficient expertise and a bit of hard work, it can be achieved.