New Year, New Server
As far as managing servers go no news is good news, and you can be sure when a server sends an email it's never good news… So when I came in on Monday morning to an email from our primary server 'Eden', entitled 'SMART error (SelfTest) detected' I knew it wasn't going to be a good day.
For those that don't know, SMART (Self-Monitoring, Analysis, and Reporting Technology) is a daemon that keeps an eye on and periodically tests hard disks in a machine and will shout if it notices something isn't as it should be.
The disk that SMART was complaining about was the OS disk, which was unsurprising given the age of the disk, but this did mean a full rebuild was required (AKA a weekend job as we unfortunately don't have another server to fail over onto). This was an opportunity to clean the machine, upgrade the nearly full RAID1 array and replace the old CentOS 6 install with the newer CentOS 7.
The first thing to do was obtain the new hardware; a 120GB Samsung SSD for the OS, which was a definite improvement over the old magnetic disk, and a pair of 2TB Western Digital Red drives for the RAID array.
Then came the fun part, taking everything apart!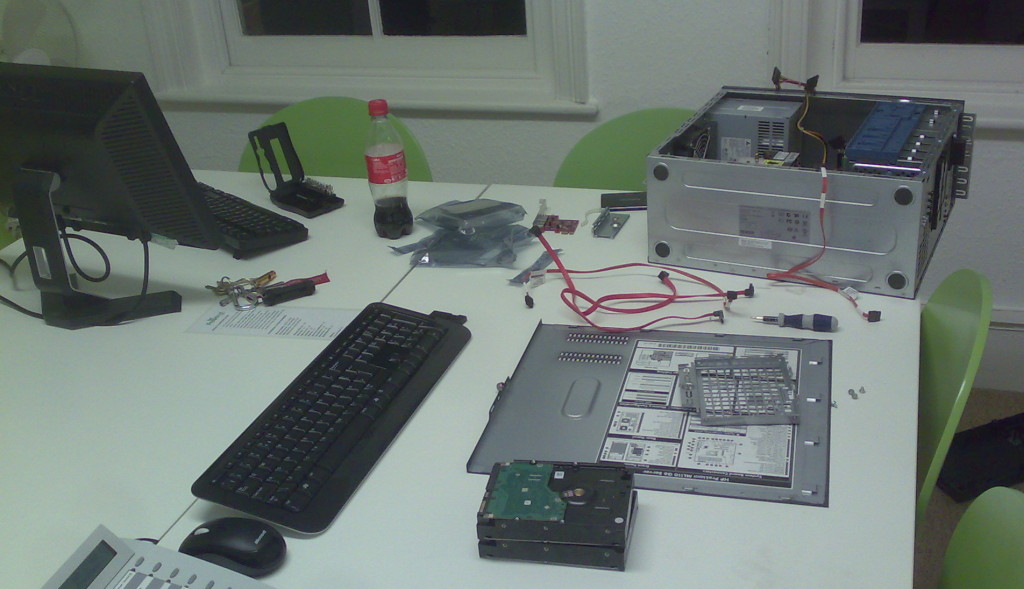 If you're not making a mess, you're not doing it right!
It was a relatively simple task to replace the hardware. I had to get a little creative when mounting the 2.5″ SDD as there were no official mount points for it. The OS and package installation was nearly as easy, although the RAID array took far longer to build than I had expected but this wasn't a problem as it didn't stop me installing everything else that was needed.