Living in the Clouds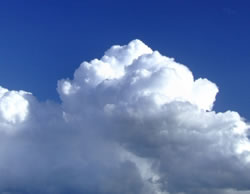 A great example of the possibilities of the internet & cloud computing was unveiled this week at the Game Developer Conference in San Francisco – streamed video games.
Cloud computing is the name given to the trend which sees services being provided via the internet rather than run from the desktop, meaning that users don't need to buy, install and run software, and don't need to know as much about what it is and how it works.
This is already an established trend in much of computing, but thanks to a new service called OnLive, it could be set to change the face of gaming. The service, which had its first public outing at the GDC after seven years in stealth mode, offers "on demand" games straight to the PC, Mac or TV, with the company promising high quality gaming even if you're running a five year old laptop with all the processing power of a microwave oven – because the whole thing is being run remotely.
There are those who have looked at the service and proclaimed it too good to be true, and others who have questioned what the pricing structure will be like when the service finally launches, but it seems likely that it will have given console manufacturers a bit of a nasty turn – if the whole thing really works as promised it could mark the end of expensive games consoles and the start of living in the cloud.