Don't build your business around your software… build your software around your business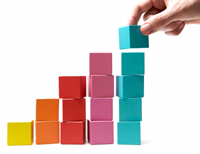 Business software and systems make life easier. From your accounting system through document management, workflow systems and intranets to product databases and e-commerce solutions, business applications streamline processes and save time and money.
And with the arrival of 'cloud computing', and more and more applications going online, you can now have browser interfaces and secure remote access, without paying a lot of hefty software licensing fees.
But with so many different systems available, choosing the right one for your business – one which fulfils all your requirements, and more importantly interfaces well with all the software and applications you already have, can be a battle. In many cases, businesses find themselves constrained by the limitations of existing applications, or are forced by compatibility or cost considerations to choose software which only part fulfils their business needs.
A client came to us recently with a number of legacy systems in place which they wanted to build a new e-commerce application around. While bespoke application development means that a new system can be built which is compatible with the existing structure, it often makes for a more complex proposition, with the end result still constrained by the limitations of the old systems. The client was surprised to learn that by bypassing their existing software and starting afresh with their total list of functional requirements, we could create a solution which met all of their needs more fully and efficiently, without significant extra cost. Existing data can be migrated, meaning that the new system can be implemented without disruption to working practices, and intuitive web interfaces reduces the need for staff training.
With bespoke business system development so much more affordable than you might think, why build your business around your software when you could build your software around your business