Happy Birthday, Google saves the world!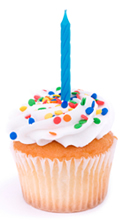 So Google is now ten years old. How time flies when you're creating complex search algorithms, eh? Not being ones to make a big noise about things (much) Google have launched some fairly big-thinking birthday celebrations.
Called Project 10100 (the numeric representation of a Googol, Google's namesake, for those who don't know ) the scheme is aiming to find the next great idea which will somehow improve the world around us. As a fair few people have pointed out, they're not the first to come up with this idea, but it'd be nice to think that they've got the reach to make a really good go of it.
Quoting the Google Blog "To mark our 10th birthday and celebrate the spirit of our users and the web, we're launching Project 10100 (that's "ten to the hundredth") a call for ideas that could help as many people as possible, and a program to bring the best of those ideas to life"
Competition closes 20th October, so you haven't got long, but if you've got any bright ideas the entry form is here.
Interestingly, Google have also created a collection of musings on the possible technological advances of the next ten years, called Ten Years Out. I'll take a look at some of these in some future posts.
Reading List
Google Official Blog – Project 10100