Don't cut back your marketing spend with recession looming
With threats of recession looking certain to become a reality, many companies are thinking about cutting back on 'non-essential spending' to lower overheads and keep profit margins acceptable. And when those holding the purse strings look around for places to cut back, inevitably the eye falls on the marketing department. But don't let your marketing become the first victim of the recession.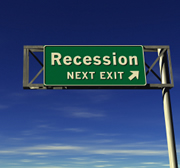 Activities like brand building, website redesigns/refreshes and advertising get choked back, or can only proceed if they can demonstrate strong short-term ROI. But studies indicate that in the long term, this strategy can be quite damaging to the business.
Studies of marketing through recession make fascinating reading, but the core message is simple: spend on marketing now more than ever, and reap the rewards in the long term. And it comes from those in the know. In March this year John Quelch, Professor at Harvard Business School, published an article in the Financial Times espousing just that sentiment.
"It is well documented that brands that increase advertising during a recession, when competitors are cutting back, can improve market share and return on investment at lower cost than during good economic times."
John Quelch
Professor, Harvard Business School
Another article from earlier this year echoes the same themes:
"Numerous studies have documented how aggressive firms have made significant long-term gains against competitors that cut back on key investments during recessions."
Steve Abdalla
President and principal broker of VR Business Brokers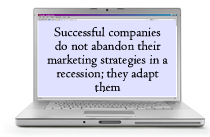 Abdalla's article goes on to quote a study of marketing behaviour across 600 companies during the '81 – '82 recession, which showed that firms which maintained or increased advertising during the economic downturn grew 275% during the mid 80s, while those which cut back grew only 19%. The same article points to Intel's powerful "Intel Inside" marketing campaign, which was launched during an economic downturn in 1990/91, and which went on to improve market share and increase profit throughout the decade.
And at Freshleaf we have been working with an acknowledged expert in the Semiconductor industry, Malcolm Penn, who says much the same thing.
"In the boom times, just being there guarantees some level of business, in the busts you have to fight tooth and nail for your share of the pie. The key to success is a strong focus on product marketing, honing the deliverables and getting the message out to the market."
Malcolm Penn
Semiconductor Industry Analyst
The way that marketing is handled will of course be different in leaner times, and getting the budget can be a battle, but history shows us that, done right, the spend more than justifies itself.
"Successful companies do not abandon their marketing strategies in a recession; they adapt them." – John Quelch
Reading List:
"Marketing Your Way Through a Recession", John Quelch, Harvard Business School
– "Here's how to benefit while economy slides", Steve Abdalla