The REALLY basic guide to SEO
There are plenty of organisations for whom SEO is an inherent part of their marketing efforts. Organisations for whom a difference of one place in the search rankings can make tens of thousands of pounds difference to sales. This guide is definitely not for them. If you already know the basics, there are many, many fantastic in-depth guides available which will yield much more detail than we will get into here.
This is a beginners' guide to the bare minimum you need to know about SEO.
What is SEO?
SEO stands for Search Engine Optimisation – the practice of trying to get your desired audience to your website, via getting it to rank well in the search results.
It's about trying to drive specific types of people to your website, by optimising the website to respond best to that audience's search queries.
But we talk to a fair number of people who feel that they ought to "do" SEO, without really knowing what their goals are. So, before we dive into the 'how', let's start with the background.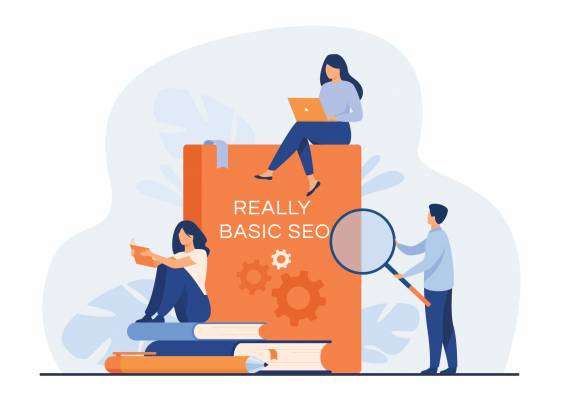 How important is SEO? Will it solve all my problems?
SEO is an immensely powerful tool, but it won't benefit everyone. Like most activities, you'll want to do a basic cost/benefit analysis. And certainly don't write any cheques until you understand the likely outcomes for your website.
Remember, SEO is all about optimising for search. So the first question you should ask yourself is: will people actually search for my product/services? People buy in lots of different ways. Some things we search for. For other things we'd start elsewhere, like going straight to a known supplier, or asking for recommendations in our network. Put yourself in your customers' shoes – what does their thought process look like before they get to you? If that process involves search, great. If not, you might want to concentrate your efforts elsewhere.
The second thing you might want to consider is your competition. If it's possible that search will bring buyers to your door, BUT you're operating in an intensely competitive market, you may still find that SEO isn't all that effective. Or at least, it isn't effective on its own and needs to be supported by other avenues, like paid search placement.
What do I need to know before I start?
Having decided that SEO is the right fit for you, the next step is to get a good picture of what you're trying to achieve. Setting out clear, actionable goals is key to the success of any endeavour, and that's no less true of SEO. Before you think about doing any optimisation, you need to know:
WHO do you want to visit your site?
WHY do you want them to visit your site (what will you realistically get out of it)?
WHAT sort of thing they would type into a search engine to find you?
This doesn't need to be complicated. It's not pay-someone-to-do-a-day-long think-tank sort of stuff. It can be as simple as:
I want widget engineers to find my site when they're looking for help with a design problem. I hope that they'll see our range of solutions and get in touch for an initial conversation about whether we can help. They're going to search on phrases like "widget design" and "help with widget design issue".
What's the bare minimum I need to know?
The first thing to understand about search engine optimisation is this: although search engine algorithms are complex and secret, they're created with people in mind. A search engine's job is to help people find the stuff they want. So, to get noticed by a search engine, you need to provide the things people want (and do it in a way that search engines understand).
That brings us to modern SEO. SEO used to be much more geared to 'telling the search engines what your page is about'. Now it's about providing content that people want, and just making sure that the search engines understand your content.
So how is that done? Well, here's VERY brief look at some of the key factors:
Content
Your content is what the people are searching for. If you have content that answers their query, they want to read it. So one of the biggest factors for optimising your website is your content. Is it useful? Is it easy to read? Does it provide the answers your audience are looking for? Is it tailored to their needs, and the problems they're trying to solve? Is it unique and informative?
Keywords/search terms
The concept of keywords can be a little misleading. In the bad old days of SEO, you used to provide search engines with a 'meta' list of keywords that you'd like each page to rank well for. However, search engines abandoned that idea many moons ago, and now adding a list of meta keywords is a total waste of time.
What you will need, though, as we hinted at earlier, is a list of 'search terms' that your key audience might use to find your site. These are words, or more likely phrases, that people will type into a search engine when looking for your product/service – such as "help with widget design issue". It's useful to draft a list of these phrases, thinking about what terms you would use, if you were searching. And the key tip here is to think not about the product you're selling but about the people who will use it and the problems they're trying to solve.
Then go back to your content, and check that you have content that contains those search terms, and answers those queries.
Meta data
Having said that meta keywords are nonsense, there are some pieces of meta data that the search engines do still want to see, and therefore fall into SEO best practice. These include the title tag, and the meta description; and I'd recommend reading the linked pages for all you need to know on those.
Technical SEO
The next part of the puzzle gets more technical; and involves whoever builds your website. To help ensure that search engines understand all of your beautifully crafted content (written with your audience and their search terms in mind), you'll need someone to do the right things behind the scenes on your site.
Search engines need to be able to read your content, which means clean, semantic markup. And search engines also care about the user experience for the visitors that they send to your site. So factors such as page speed are very important to achieving good search rankings.
What else?
Well, that's it for the REALLY basic guide to SEO. But if you want to learn more, there are plenty of great free resources online, many of which do start with the basics – such as Moz.com's SEO Learning Center.