The Future of Web Design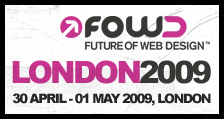 Carsonified's Future of Web Design 09 Conference in London today produced some interesting food for thought. Not entirely focussed on the 'future' of web design as such, it could perhaps have more accurately been titled "some people with some very interesting and some less interesting ideas on web design" – although I doubt that would have sold as well.
There were a total of twelve speakers throughout the day, on subjects as diverse as 'the mobile web', typography, and, bizarrely, the graphic novel (it's not a comic, apparently) Watchmen. Interestingly, for me at least, some of the most useful and thought provoking ideas I took away from the whole thing were less about web design itself, and more about ways of managing web design projects and workflow. Not really cutting edge and fascinating, you might think, but 100% relevant to what we do.
Danny Somekh spoke about a new 'rapid co-creation' workflow methodology he's been trialling, Brett Welch of GoodBarry talked about web design business methods in an increasingly competitive marketplace and in my favourite talk of the day, freelancer Sabrina Dent talked about saying no to clients a lot. (More on these in a later post).
Not all of the talks were quite as beneficial, though. Carsonified's own designer Mike Kus filled us in on some of his thoughts on web design from a graphic design perspective; and his apparent implication that web design is a handy extra skill that graphic designers can learn in a lunch break (rather than a completely separate discipline), as well as his suggestion that we should all stop whinging about usability, accessibility and cross browser support and just get on with designing stuff will probably have raised many hackles in the room. Odd move, scheduling it after Robin Christopherson's excellent piece on accessibility, too.
Overall, though, FOWD 2009 was interesting, engaging and has left us with a lot to talk about.