Trustonic Corporate & Developer Websites
"Freshleaf have a good knowledge of the technology industry"
You may not have heard of Trustonic, but it's quite possible that their technology is in your pocket! Integrating secure software with secure hardware, Trustonic secure services on over 500 million mobile devices worldwide. We've worked with Trustonic since 2012, and in January 2016 we were proud to launch a fully redesigned site with a contemporary look and feel and a new ultra-flexible CMS to enable the content to be kept fresh and relevant.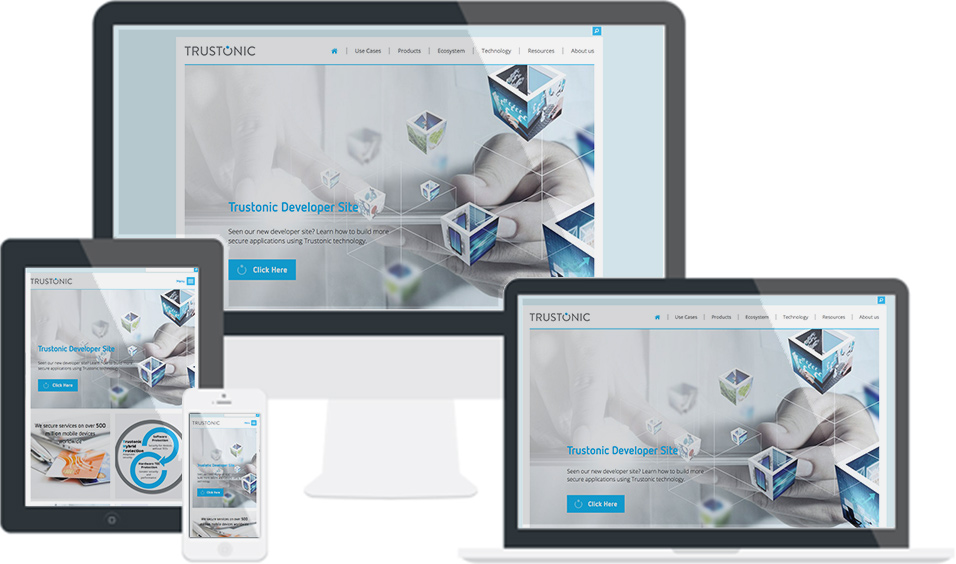 The Challenge
Trustonic's corporate website had been in place since the company started out in 2012. So by 2015, in order to keep up with changes within the company and the marketplace, a new site was commissioned. It needed to communicate Trustonic's credibility and the extremely widespread use of the company's security solutions within household-name branded devices. And all this needed to start with educating the audience around what Trustonic actually do!
Developer Site
In addition to the corporate website, Trustonic also needed a developer site, to drive engagement with a completely different audience. This site would be created to support a community of engineers developing cutting edge products and applications and using Trustonic's solutions in their work. The developer site needed to follow the themes of the corporate site and sit within the existing branding, but be managed by a different team, and speak to a different audience.
Managing Content
For both websites, a very flexible content management system was required. The system needed to be capable of keeping up with Trustonic's evolving ecosystem, and give Trustonic's marketing team the power to really leverage their content into a format which creates a compelling story. Now it's easy for Trustonic to keep their content compelling, feature their latest innovation, and tell a story about their expertise with use cases.