Surrey NanoSystems
"...stylish and easy to navigate across all platforms... the results are epic!"
With the 2014 launch of Vantablack, Surrey Nanosystems went – almost overnight - from working with clever but fairly obscure technologies, to being Rockstar scientists. With such explosive growth and attention, CEO David Wong and CTO Ben Jensen were so involved with the business of inventing, productising and marketing a brand-new material that they simply didn't have time to reinvent the company website.
Fast forward to 2015 and although Vantablack is all over the science journals, current affairs programmes and newspapers, it barely had a mention on the SNS website! The company needed a new design which would be in keeping with the innovative nature of the material and a website which was capable of telling the Vantablack story.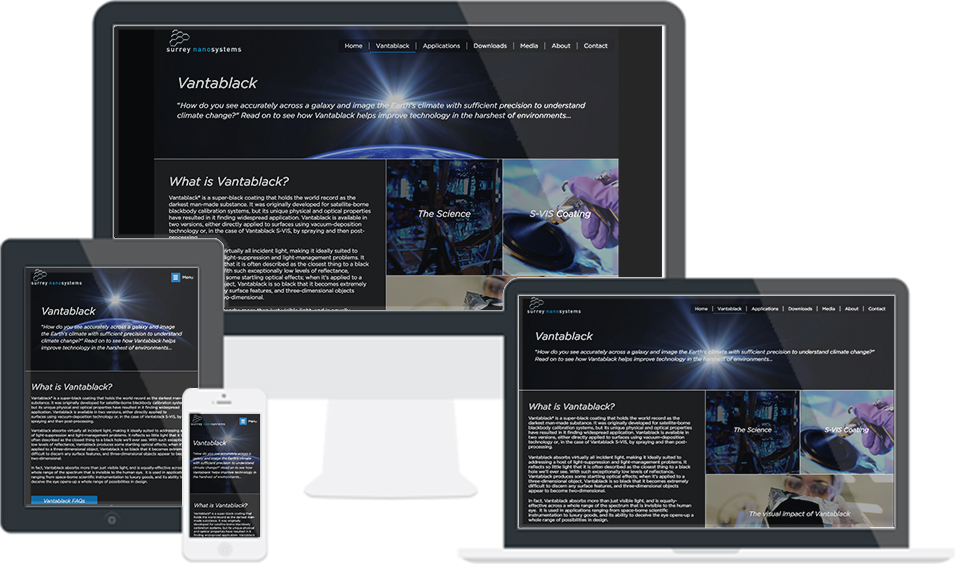 Challenge
Surrey Nanosystems found themselves in urgent need of a cutting edge website to address a rapidly changing business environment. Suddenly at the forefront of a new and in-demand technology, they needed to be able to manage and engage with the massive uplift in interest and web traffic, whilst being able to capitalise on the opportunities their creation provided.
Business Impact
Because the Vantablack story wasn't reflected on the SNS website, the traction being gained by Vantablack in the public, aesthetic and commercial arenas wasn't benefitting the Surrey Nanosystems brand. Additionally, the company had no channel for genuine potential buyers to get the background and contact information they needed, and SNS were unable to collect necessary data about interested parties. They were also faced with a limited ability to provide accurate information and resources for journalists and story editors covering Vantablack in the press, which lead to incorrect information being stated in the media.
Solution
Surrey Nanosystems engaged Freshleaf Media to completely redesign its website with a new, cutting-edge design that reflected the culture and excitement of Surrey Nanosystems and Vantablack. The Freshleaf team used its expertise to define, design and develop a new website that captures the excitement and innovation around Surrey Nanosystems and Vantablack.
Outcomes
Surrey Nanosystems now has a design that its founder has described as "Epic" and one which is completely in keeping with the innovative image of the business. It has a powerful, custom built content management system (CMS) which has the flexibility and ease of use to enable non-technical staff to manage the site quickly and simply. Site traffic has increased exponentially and Surrey Nanosystems is now able to engage with visitors like never before.