Artesyn Embedded Technologies
Artesyn Embedded Technologies is a global leader in the design and manufacture of highly reliable power conversion and embedded computing solutions for a wide range of industries including communications, computing, healthcare, military, aerospace and industrial automation. Artesyn and Freshleaf have worked together for many years and have continued to develop the relationship through a number of substantial changes as the Artesyn business evolved. The latest of such changes was the acquisition and spin out of the current Artesyn Embedded Technologies from Emerson Network Power in 2013.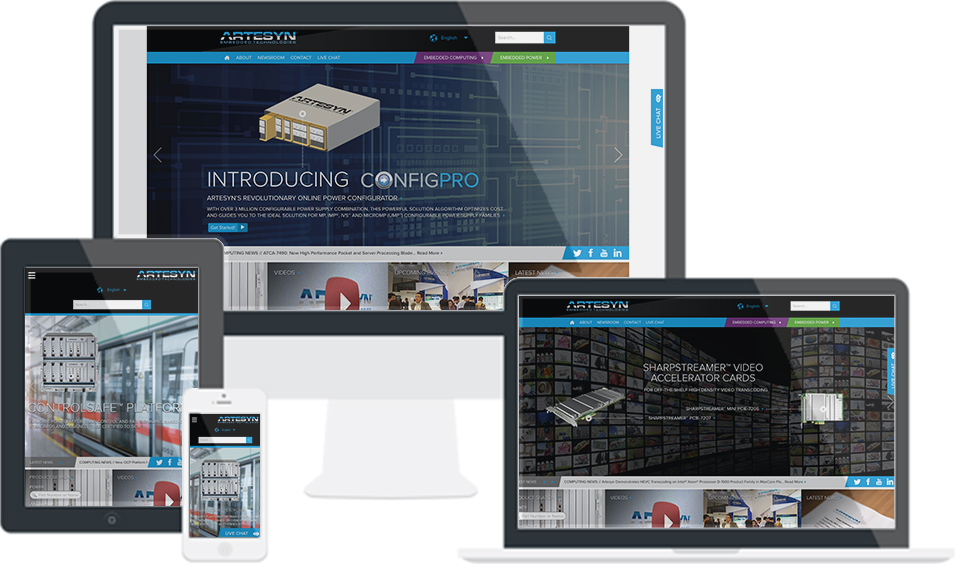 The challenge
Artesyn had an urgent need to create a new website for its newly formed identity in a very short timescale. Because the Freshleaf team had proved itself capable of delivering expertise as a trusted partner, we were engaged for the web design and development project. As well as the new site, there was a requirement to port a monumental amount of existing data and to migrate a large number of legacy tools in order to support Artesyn's business processes.
Solution, Phase One
In a matter of months, the Freshleaf completed the initial project and the new site was ready, accompanied by a new partner portal. All data and tools were migrated to the new environment and thoroughly tested to ensure that the systems were able to support the global partner base. The speedy deployment of the Artesyn web site and tools enabled the business to continue seamlessly and without impact to Artesyn or its distribution network.
PriceBook Challenge
One of the business tools Artesyn was using was the pricing catalogue. The challenge was that a set of highly complex data, for thousands of parts and prices, was entirely managed within spreadsheets through a cycle of amendment, review and release. The process was laborious, and there was an inherent risk and potential for costly error.
PriceBook Application
Despite initial scepticism from the product managers and administrators using the existing system, a prototype was developed to replace the system of spreadsheets. Once the prototype was accepted, a planning process was started with the global key stakeholders to ensure all needs were considered and captured. Some six months later, Freshleaf delivered a fail-safe, closed loop and version controlled communication and approval system for change management, pricing and EOL, with full auditing, automated reminders and a standardised release cycle.